Accumulator batteries
Technical approach
All battery series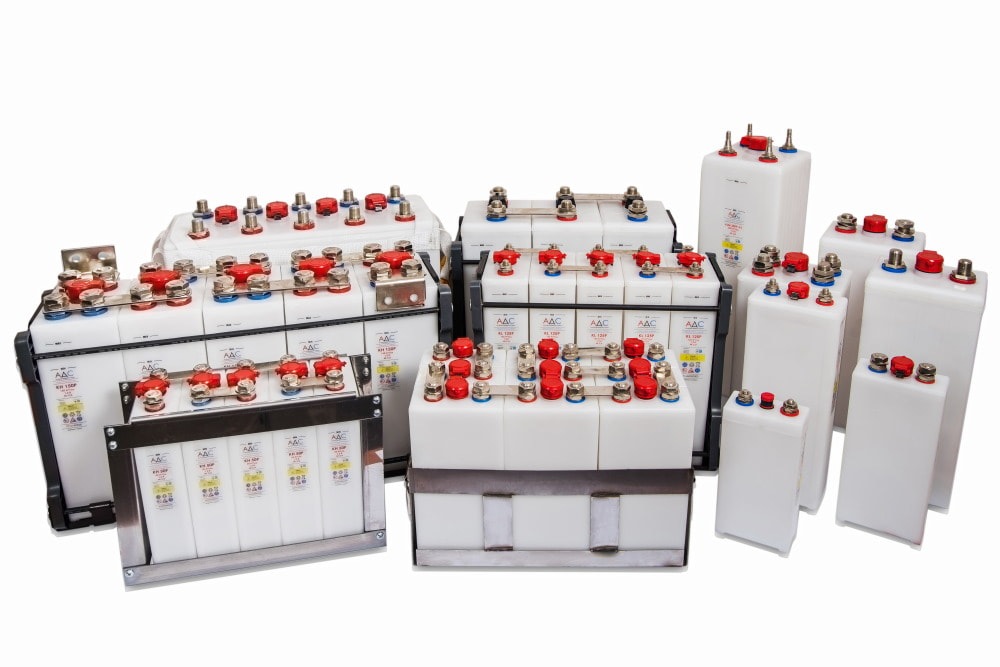 ADS LLC is the leading Ukrainian manufacturer of alkaline nickel-cadmium and nickel-iron batteries to be applicable in an overall industrial complex and alternative energy. Also, we provide solutions for household consumers.
Alkaline accumulator batteries are utilized as a reliable back up power supply, a traction battery for mining electric locomotives, a starting battery for railway transport, and a battery for a self-contained motion of electric transport.
We offer Ni-Cd batteries made in a wide range of sizes and capacities, from 24Ah to 1700Ah.
Nickel-cadmium and nickel-iron batteries are available in both polypropylene and metal-frame versions. Accumulator batteries in non-standard sizes and configurations can also be produced upon a customer-specific requirement.
The whole range of alkaline accumulator batteries is being produced accordingly to the Technical Provisions developed by us and verified by Certificate of Conformity.
Alkaline nickel-cadmium accumulator batteries

Starting in 1998, we manufacture alkaline nickel-cadmium batteries to be widely implemented, in particular for forklifts, telecommunication equipment, electric-power engineering, railway transport, railway communication system, and automatic system. Additionally, we manufacture and supply alkaline nickel-cadmium traction batteries for carrying equipment, starting accumulator batteries for locomotives, accumulator batteries for mining complex, alternative energy, and stationary accumulator batteries.

Traction accumulator battery. Starting accumulator battery.

Up to date, LLC ADS is the top range brand in the manufacturing of alkaline accumulator batteries with the implementation of pacing technologies. We offer traction batteries to ensure uninterrupted work of electric traction equipment. As a general practice, traction batteries are installed on mobile units as the energy sources for a traction engine.

Alkaline nickel-iron accumulator batteries

From the start date in 1998, we pursue to satisfy the most complicated inquiries of customers and offer a wide range of alkaline accumulator batteries at a competitive price.

That is exactly why alkaline nickel-iron batteries found their level in our production range. These batteries are of saving solution and used for electric equipment on railway transport and provide uninterrupted power for municipal transport and floor-level transport.

Industrial-grade stationary accumulator batteries

For many years our Company has been in constant development and striving for innovation and progress. We keep striving to satisfy the growing needs of the electrical power market with the operational excellence of our engineering personnel.

Our industrial-grade batteries are best known for top quality.

The accumulator batteries ensure the effective operation of the equipment, reasonable utilization of production area, and high cargo turnover. Our batteries are widely implemented as a power source for municipal transport, mining locomotives, and household equipment.

Industrial-grade accumulator batteries are used as the backup power sources for the power industry, oil and gas industry, buildings, airports, marine vessels, traffic and railway infrastructure, and other industrial sectors.
Certificates